Dad Zone
Welcome to Dad Zone, the page where you can catch up on all Dad related topics, tips, news and events. Throughout this page and links, we refer to the term 'Dad' but under this umbrella we include all father figures, such as Step-Dads, Uncles, older brothers or any other male role model involved in a child's upbringing at Hazelmere Infant School and Nursery. Dad Zone is a new concept, aimed at giving father's a voice in their child's upbringing and education, so we'd love you to sign our Guestbook at the bottom of this page with your comments and suggestions.
Get Engaged
If you're a separated or divorced Dad, there's a risk that you're not as involved in your child's schooling as you would like to be. Worst of all, is the feeling that you might not be needed. Research shows that mums are more likely to be the ones reading the bedtime stories and helping with the homework, attending the coffee mornings and meeting the teachers. But it shouldn't be this way. Schools, including Hazelmere Infants and Nursery, know the importance of Dads' involvement and want to encourage more fathers to be involved in School life.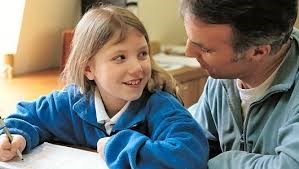 Under the role of Family Liaison, we will happily encourage and support Dads to become more involved in School life and will always listen to suggestions.
How can you become more involved?
Come along to School meetings and parents' evenings.

Attend events, such as Sports Day, assemblies etc.

Do the School drop off or pick up (or both!), that way you get to meet your child's teacher and even have a look around their classroom.

Make sure we have your contact details – email and/or mobile so we can invite you to Dad Zone events!
"When I was a kid, I said to my father one afternoon, 'Daddy, will you take me to the zoo?' He answered, 'If the zoo wants you, let them come and get you.'"
- Jerry Lewis
Snippets
Paternity Leave:
If you're going to become a Dad, did you know that you could have paid paternity leave? Also, while you're off work your employment rights are protected, so you still save up your annual leave and have a right to return to work. You even have the right to accompany your partner on two antenatal appointments. Click here for further information or Contact the Family Liaison Worker (details at the bottom of the page).
Book Share:
The importance of dads reading with their children has been proven by plenty of research. Quite simply, it's vital. But, that's not to say it's easy. Take a look at our advice page on how to engage your children with reading. Another useful tip though, is to pick the right book - something both of you will enjoy reading. If you click this link it will take you to the BookTrust website and a list of great childrens' paperbacks/apps and Ebooks. You can even filter by topic, for example sport or adventure.
Child Maintenance:
From 25 November 2013 The Government is changing the child maintenance system. It believes that not enough children in separated families benefit from an effective child maintenance arrangement and not enough parents are collaborating in the interests of their children.
Currently, only 50% of children benefit from effective child maintenance arrangements. This means many children may not be getting the financial support they need to have the best start in life. If these changes affect you, you may like to find out more here.
Comments (0)
There are currently no comments.