Family Support
My name is Bridget Wilkinson and I am the School's Family Liaison Worker. My job is to support mums and dads with all aspects of family life and getting the best for you and your family. You will usually see me in the playground first thing in the morning and I am always happy to have a chat with you. Or, you may want to make an appointment so we can have a talk in private, over a cup of coffee.
You can contact me on: 07803 207 470 (if you send a text, I can always phone you back). Or, you can email me at: family@hazelmere-inf.essex.sch.uk
We recently held a coffee morning and craft session for our EAL families (English as an Additional Language).
The morning was a great success, with some parents staying on to watch our Friday assembly too. However, I wasn't sure what the children enjoyed the most - spending time with their parents, or eating the chocolate biscuits....
Dad News
Calling all Dads! Did you know that when you're actively involved in school life, your child:
Learns more

Performs better in school

Exhibits healthier behaviour;

Has fewer discipline problems

Is more likely to participate in extracurricular activities

Enjoys School more
This is all good stuff, and proven by expert study. So, we thought it would be a great idea to start up a Dad's Club, focussing on Dad-themed activities within School. And when we say 'Dad' we also include father-figures in your child's life, so Granddads, Step-Dads, older brothers, Uncles etc are all welcome.
Some events we're thinking of are:
Bring Dad to School day. Do you wonder what your child gets up to at School? Stay awhile after drop-off and find out.

Reading event. Come and spend some time reading one-to-one with your child.
We have also set-up a 'Dad's Zone' on our website, to keep dad's up to date with the latest fatherly news, tips and relevant info. Click here to find out more , or select Dad's Zone from the drop down list in Family Support.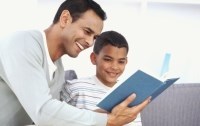 If you have any other ideas or want to get involved, we'd love to hear from you. Just email family@hazelmere-sch.essex.gov.uk with your name, email or mobile number so that we can contact you when an event is coming up.
Homework Blues
It can be hard enough to get your child to talk about school, nevermind get them to sit still long enough to read a story or do their homework. But, if you put in the effort and keep trying, you WILL crack it! Getting your child to read, even a few minutes a day, can have a massive benefit to their education,intellect and vocabulary. The other, added benefit, is the wonderful bond you will develop with your child. There is nothing better than snuggling up under a blanket together, to read a good book. If you need help on where to start, click here:
News in Brief
Have Your Say:
Thank you to all parents who are leaving notes in the Suggestion Box at the front office. We have been asked to consider staggered start times for Nursery, which is being looked into. We are also pleased to receive notes from parents telling us what their child/ren have enjoyed doing at school recently.
The children's suggestions are also interesting, with one little girl asking if she could stay in school overnight.
You can now also leave your comments and suggestions in our Guestbook at the bottom of this page.
Stay and Play:
We hope to join up with Barnardo's Children Centre in the near future, to offer 'Stay and Play' sessions and coffee mornings for mums. It would be a chance to meet other parents, share parenting experiences and generally have some support if needed. We hope to have guests attend too, so watch this space, or email us your thoughts: family@hazelmere-inf.essex.sch.uk
Coming soon:
Dad's, Uncles, Step-Dads, Granddads of Year 2 children, you will be needed soon for our 'Bring your Dad to School' morning. Full details will be announced soon, but at this point I can definitely confirm that Waitrose are supplying bacon butties, sausage rolls and pasties!
Comments (0)
There are currently no comments.